To what extent can graphical feedback from a 'rainbow diagram' help students develop coherence in their academic writing?
Keywords:
automated writing evaluation, OpenEssayist, rainbow diagram, student academic writing, writing skills
Abstract
OpenEssayist is an automated writing evaluation system (AWE) designed to provide immediate textual and graphical feedback to students to help them improve their academic writing. One of the graphical visualisations as part of OpenEssayist, (named a 'rainbow diagram'), illustrates how well the key concepts within the writing are connected. The rainbow diagram element has been subjected to research by Whitelock et al., (2014), who determined that participants could identify patterns across the diagrams, identifications which corresponded to essays awarded low-grade or high-grade marks by tutors. The research reported as part of this paper is a follow-on study, developed to determine how participants might use the rainbow diagram to improve academic writing. Thirteen (n=13) PhD students were interviewed face-to-face whilst an eye-tracker recorded their gaze on a rainbow diagram produced from an example of their own writing. The current work confirms that students can use rainbow diagrams to identify content that corresponds to high-grade and low-grade work in essay writing. Building on Whitelock's research, the study also shows that the rainbow diagram can be used further, to enable students to understand coherence and structure within academic writing, and to facilitate reflection on what actions should be taken to improve their writing.
Downloads
Download data is not yet available.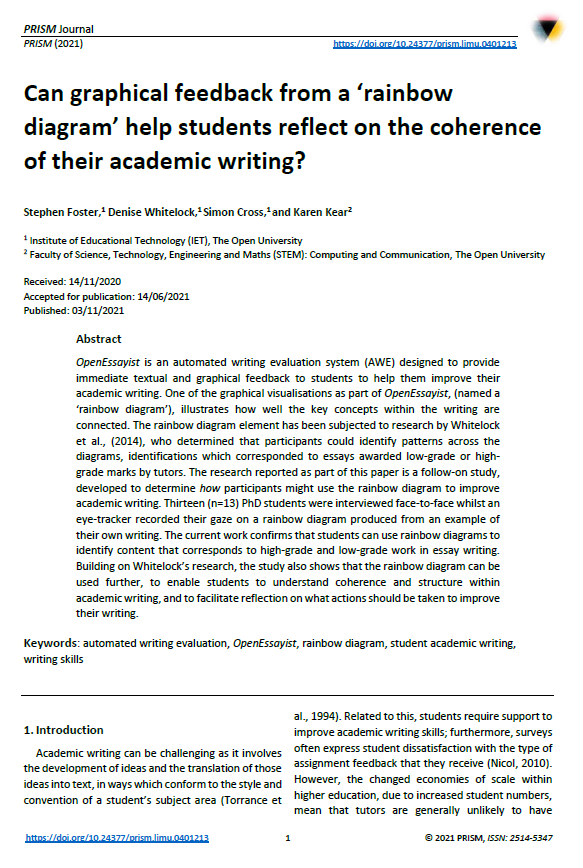 Section
Themed Research Papers
Copyright (c) 2021 Stephen Foster, Denise Whitelock, Simon Cross, Karen Kear
This work is licensed under a Creative Commons Attribution-NonCommercial-NoDerivatives 4.0 International License.
Authors retain copyright and grant the journal right of first publication with the work. The work is licensed under a Creative Commons Attribution-NonCommercial-NoDerivatives 4.0 International Licence that allows others to read, download, copy, distribute, print, search, or link to the full text of works in this journal, or to use them for any other lawful purpose in accordance with the license. This journal provides immediate open access to its content and has no submission or publication fees.