Welcome
Abstract
Our first guest editorial comes from Professor Zara Quigg who started her academic journey by completing the BSc Public Health degree here at Liverpool John Moores University. Zara is now a Professor in Behavioural Epidemiology, and the Director of the World Health Organization (WHO) Collaborating Centre for Violence Prevention.
Conducting a dissertation can be one of the most daunting, challenging and exciting parts of a student's journey. In the world of public health, there is a never ending list of topics to focus a dissertation on – often the most difficult part is just picking one! We often advise students to choose something that sparks their interest, that can help them learn something new, or build on their existing interests or work. That was certainly the advice I was given many years ago for my BSc Public Health dissertation at LJMU, and I stand by it to this day. My undergraduate focused on my main hobby as a student – nightlife! Something I knew well, and through my personal and public health studies could recognise the imperative to develop healthier nightlife spaces, for nightlife users and workers alike. My study focused on the role of door supervisors in promoting healthier nightlife, and I have had the privilege to have continued my work on developing healthier nightlife settings through my role at the Public Health Institute. Without this opportunity however, my dissertation would have simply sat on a shelf (these were the days when electronic catalogues were rare). This journal offers students a fantastic opportunity to promote and celebrate their work that is accessible to all.
Dissertations provide students with an opportunity to develop and demonstrate a range of skills covering research and data analyses, problem solving, communication, and project and time management amongst others. It aims to enable students to demonstrate their independent research skills. As can be seen in this journal, students at the Public Health Institute are engaging in research that is of relevance to the ever changing challenges to public health. They are identifying critical questions to explore via their dissertation, adopting a range of methodologies, and identifying key learning that can help shape their own thinking, and the wider field. Exploring these abstracts will provide the reader with a fantastic overview of some of the key public health challenges we face today. I am continually enthused by the passion of our students when embarking on their dissertation and congratulate them on their work. As they embark on their future journey, I am sure that the excellent work they have produced, and the knowledge and skills they have obtained will help shape their public health journey, and the influence they can have on promoting the public's health.
Professor Zara Quigg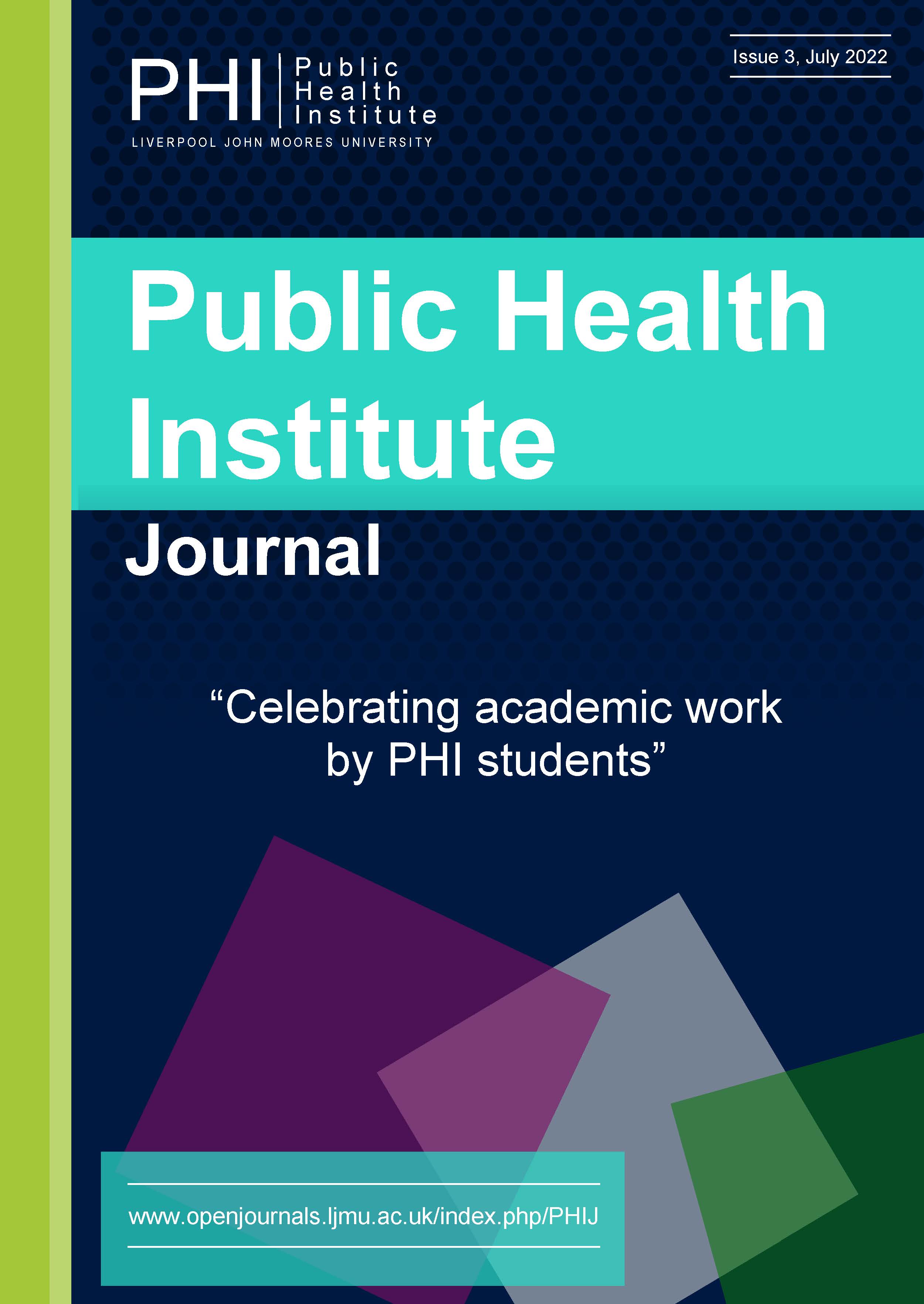 License
Authors retain copyright and grant the journal right of first publication with the work simultaneously licensed under a Creative Commons Attribution License that allows others to share the work with an acknowledgement of the work's authorship and initial publication in this journal.