'It's such a drag!' Assessing the impact of air quality and post pandemic views and opinions regarding the future of smoking in Liverpool's outdoor hospitality venues
Keywords:
Air Quality, Smoking and Hospitality, Pavement Licences, Mixed Methods, Smoking Outside
Abstract
Background: The aim of this research is to determine if a smoke free pavement licence would be appropriate to introduce in Liverpool. Whilst the original pavement licence does not require pavements to-be smoke free, some councils in the UK have imposed a smoke free condition within all pavement licences.
Methods: To determine if it is appropriate for Liverpool to introduce this condition this study will utilise a multi-method approach to data collection, essentially two mini studies coming together to answer the research aims. The first aim focuses predominantly on the attitudes and opinions of residents in Liverpool, collected through online questionnaires. The second aim to see if smoking outdoors effects general air quality, to assess this air quality readings were taken outside of hospitality venues with and without the presence of smokers.
Results: After the analysis of both questionnaires and air quality data, the findings were merged to identify if the levels of air quality alongside public attitudes are enough to support the need for policy change in Liverpool's pavement licence permits. The questionnaire results were varied, those against a smoke free pavement licence were concerned about enforcement, freedom, and compliance. Whilst those in favour believed that non-smokers should not be exposed to the harmful smoke and be subject to second hand smoke (SHS). It was evidenced from the air quality monitoring, that smoking outside does not cause detrimental impacts on general air quality as the readings taken did not exceed the WHO (2021) guidelines. However, PM2.5 was detected at all locations.
Conclusion: Finally, this research has concluded that a smoke-free condition would only work in Liverpool if it was introduced nationwide. Extending the condition nationally would help ensure compliance so that Liverpool did not feel it was being singled out. The benefit of smoke free pavement licences would reduce smoking normalisation, SHS exposure and improve cessation rates which would help improve population health for all and thereby continue on the journey which started in 1964 to reduce the harmful impacts of smoking.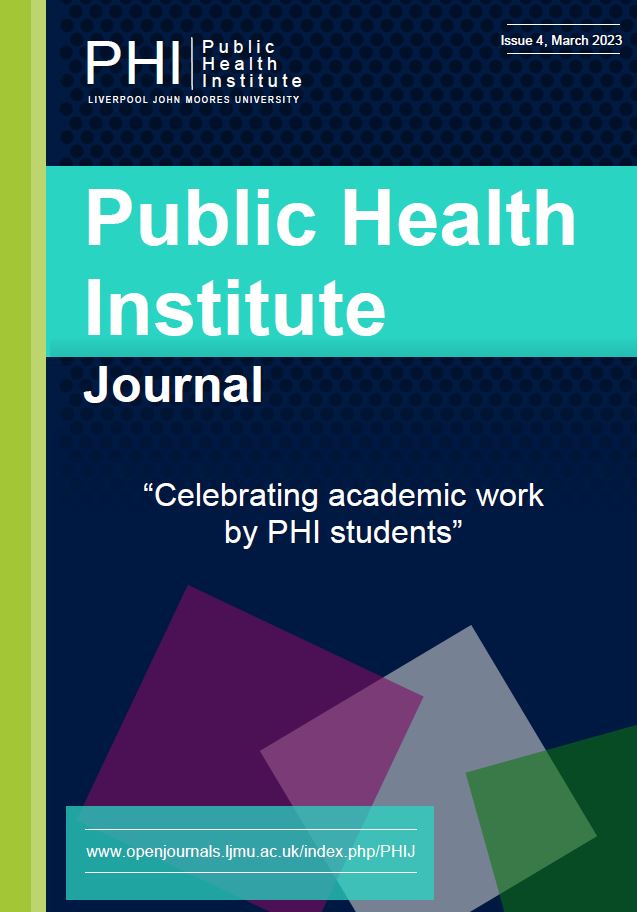 License
Copyright (c) 2023 Rachel O'Riordan
This work is licensed under a Creative Commons Attribution 4.0 International License.
Authors retain copyright and grant the journal right of first publication with the work simultaneously licensed under a Creative Commons Attribution License that allows others to share the work with an acknowledgement of the work's authorship and initial publication in this journal.