A quantitative study exploring the knowledge, attitudes and experiences of drink spiking
Public Health Dissertation Prize Winner
Keywords:
Drink spiking, Drug facilitated sexual assault, Prevalence, Harms, Knowledge, Attitudes, Interventions, Experience, Awareness, Gender, Age, Night-time economy
Abstract
Background: Drink spiking is the administration of alcohol or drugs into another person's drink without their knowledge and/or consent. Although drink spiking is not a new phenomenon, recent years have seen an increase in both incidence and number of reported crimes. Despite the potential for serious harm as a result of drink spiking, there are currently no accurate estimates of drink spiking prevalence within the UK, and therefore, the true scope and extent of the public health problem remains widely unknown. This prevents policymakers from developing policies and practice related to the reduction of drink spiking prevalence and subsequent harms. This study aimed to explore the knowledge, attitudes, and experiences of drink spiking among those aged 18 over who reside in the UK.
Methods: This study was approved by the Research Ethics Committee at Liverpool John Moores University. A descriptive cross-sectional study was conducted using an online self-administered questionnaire, distributed to individuals through social media platforms. The survey covered questions based around participant's demographics, their knowledge of drink spiking, their attitudes towards drink spiking, their awareness of existing interventions and their experiences of drink spiking. Participants were recruited utilising a convenience sampling method. A total of 163 individuals participated in the study. Quantitative analyses were undertaken in SPSS using descriptive statistics.
Results: Data analysis revealed that although the majority of participants had a good understanding of drink spiking and the legal framework which surrounds it, 42.0% of participants (n=68) lacked knowledge of what constitutes drink spiking. The study found that approximately one in 10 participants (11.2%; n=18) believe that drink spiking is a normal part of a night out and is to be expected and 8.7% (n=14) believe drink spiking only occurs to women. The majority of participants were aware of existing interventions aiming to protect individuals against drink spiking, however 82.5% (n=132) believed additional measures could be taken to protect individuals against the harms of drink spiking when on a night out. The study concluded that participants reported higher experiences of drink spiking with drugs (33.3%; n=54) compared to alcohol (27.8%; n=45). There was no significant relationship discovered between age or gender for experiences of drink spiking with alcohol. However, the study highlighted statistically significant differences in both gender (p<0.001) and age (p=0.009) for experiences of drink spiking with drugs, with almost half of females (45.9%) and 63.3% of participants aged 18-21 being spiked with drugs. This suggests that females and individuals aged 18-21 years are at elevated risk of drink spiking victimisation.

Conclusion: Overall, this study provided an overview of the current knowledge, attitudes, and experiences of drink spiking within the UK. It has highlighted the need for further research in all aspects of drink spiking to enable effective responses to the rising prevalence. To help respond to and reduce drink spiking incidence in the UK, there is a need for increased education and awareness of drink spiking, increased training of bar and venue staff and the development of interventions which focus primarily upon diminishing perpetration.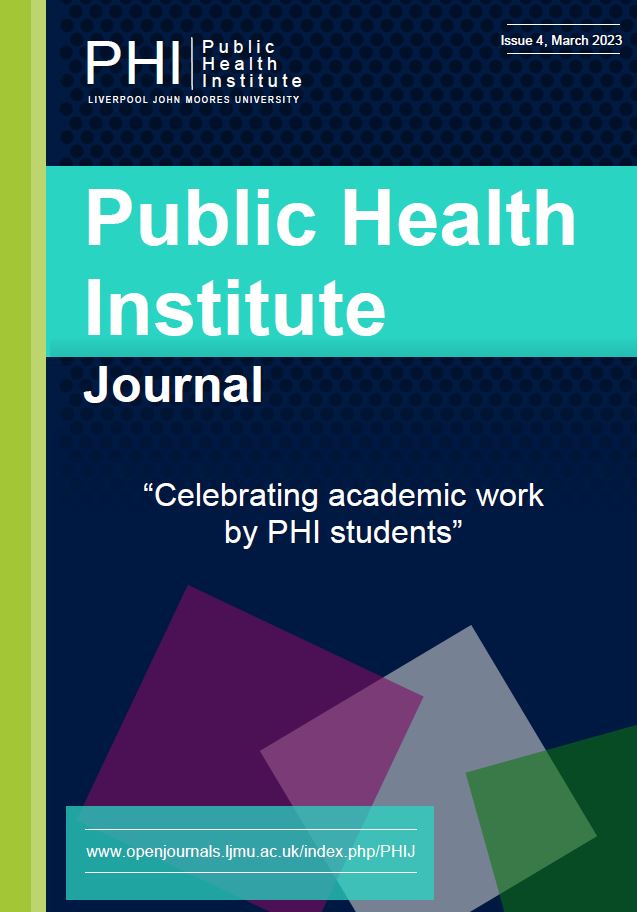 License
Copyright (c) 2023 Faye Hellewell
This work is licensed under a Creative Commons Attribution 4.0 International License.
Authors retain copyright and grant the journal right of first publication with the work simultaneously licensed under a Creative Commons Attribution License that allows others to share the work with an acknowledgement of the work's authorship and initial publication in this journal.