Exploring young (aged 20-25) UK black ethnic minority adults' experiences of physical activity during the 1st COVID-19 lockdown
Keywords:
Physical activity, Black ethnic minority, Covid-19, Lockdown, Qualitative
Abstract
Background: The research aimed to explore the young UK black ethnic minority adult's aged 20 to 25 experiences of how they had maintained their physical activity for the duration of the 1st COVID-19 lockdown. The research focused on Black African, African-Caribbean, and Black British Citizen population groups. The research endeavoured to identify physical activity levels before the lockdown and during the lockdown, ascertain facilitators and barriers to physical activity during the lockdown, and understand the perceived impact of physical activity levels during the lockdown on health and wellbeing.
Methods: The research utilised a qualitative methodology using online semi-structured interviews through Zoom, the teleconference program. Thematic analysis was employed to recognise, analyse, and convey the patterns and themes in the data. The participants in this research were ten young black ethnic minority adults' aged 20 to 23 residing in the UK.
Results: All of the participants displayed an understanding of physical activity and its role in their lives. Findings also demonstrate that some participants were physically active with aerobic exercises before the lockdown; however, their physical activity levels decreased at the beginning of the lockdown due to behavioural change and other personal commitments such as university. During the lockdown, facilitators to physical activity were identified as: self-concept, body image, inspiration/ role model, social influence, and employment. Barriers to physical activity participation were demotivation, a lack of physical activity infrastructure, and mental health problems. The impacts of physical activity during the lockdown on health and wellbeing identified that most participants who engaged in little physical activity had experienced more positive health and wellbeing than those who did not participate in any physical activity.
Conclusions: The key recommendations of this research pinpoint the need to investigate the gap in young UK black ethnic minority adults' physical activity during the 1st COVID-19 lockdown. This might aid with understanding the physical activity levels of young black UK ethnic minority adults' and provide additional support for them if needed. Another recommendation is that government policies may be used to target young black UK ethnic minority groups with educational resources on participating in physical activity before and during a future national lockdown. Lastly, establishing age-appropriate health promotion interventions in physical activity may encourage young black UK adults aged 20 to 25 to participate in physical activity.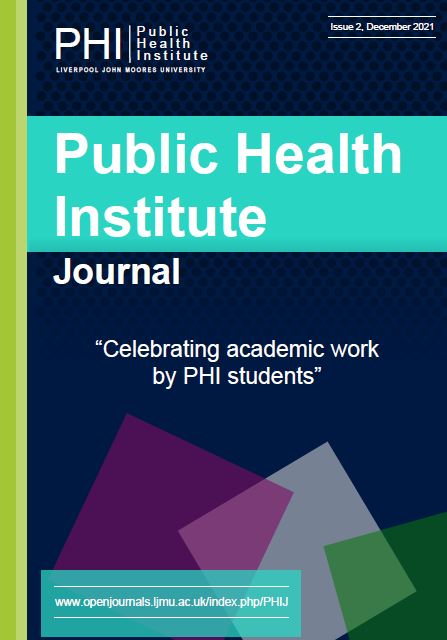 License
Authors retain copyright and grant the journal right of first publication with the work simultaneously licensed under a Creative Commons Attribution License that allows others to share the work with an acknowledgement of the work's authorship and initial publication in this journal.