Welcome
Keywords:
PHI, Public Health, Liverpool John Moores University
Abstract
Welcome to the second issue of the Public Health Institute Journal (PHIJ). In this edition we present the abstracts of dissertation projects undertaken by our MSc Public Health, International Public Health, Public Health Addictions and Public Health Nutrition students. They are to be commended for producing high calibre, innovative and thought provoking work - all done during the COVID-19 pandemic. National restrictions, to stem the spread of the coronavirus, necessitated changes to how research was conducted. It also sparked interest in new topics and for some, mastery of online methods of data collection. Not surprisingly many students investigated the impact of COVID-19, covering mental health and well-being in the student population, physical activity levels among  BAME students, eating behaviour and take away food consumption and the use of a weight management app during lockdown. Vaccination uptake amongst university students was also examined, as were social distancing and testing decisions, and adverse COVID outcomes for BAME groups. Whilst COVID-19 based research projects predominated, more traditional public health issues were not neglected and there is some excellent research around risky health behaviours, including substance misuse projects on SPICE amongst the homeless, skin infections and injuries among men who inject image-and performance enhancing drugs, the impact of national changes in public health policy on local drug treatment service delivery, and a review of the UK's 12 Step Groups for those seeking recovery from substance dependency. Childhood obesity, stigma and veganism, menstrual hygiene in the British army, parental experiences of free school meals, electronic cigarette use in pregnancy and the attitudes of gay men to physical activity are just a few of the other timely public health topics that were tackled this year.
The impact of Euro 2020 on domestic violence was examined through the print media and a gender-based violence and bystander intervention programme was evaluated. Prevention was the focus of several reviews, including infection prevention in the ambulance sector and preventing adolescent pregnancy in low and middle income countries. Social media continues to generate interest; there were projects on the influence of Instagram on perceived body image and weight management and the online sports betting behaviours of UK men.  Sub-Saharan Africa (SSA) was the context for a cluster of reviews that looked at maternal mortality, CVD risk prevention in HIV patients, climate change and childhood diarrhoea. Tuberculosis in different countries was systematically reviewed, as was the consumption of processed meats and chronic diseases in Middle Eastern and North African countries. These abstracts provide a rich tapestry of the many contemporary public health issues affecting the world today that our MSc students consider important and relevant. Further they demonstrate our students' ability to apply in practice key public health concepts - prevention, protection and promotion - and a passion for and commitment to improving the public's health.
Finally, the cover image chosen for this issue showcases one of two beautiful cathedrals in Liverpool. The Liverpool Anglican Cathedral has been home to Liverpool John Moores University graduations for many years and marks a period of celebration and achievement. Whilst graduations have been postponed recently due to COVID-19, we are pleased to see them rescheduled for early 2022 and look forward to celebrating our students' success with them, their friends and family. We congratulate our MSc students on their excellent work and wish them much success as they embark on the next stage of their careers in public health.
Lorna, Conan, Jen and Jane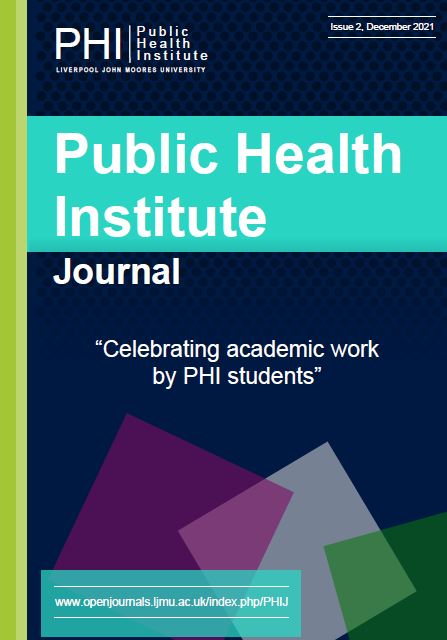 License
Authors retain copyright and grant the journal right of first publication with the work simultaneously licensed under a Creative Commons Attribution License that allows others to share the work with an acknowledgement of the work's authorship and initial publication in this journal.